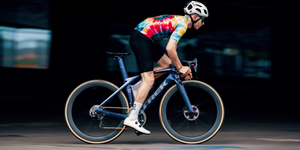 We're all about the upgrade
NEVER ACCEPT ORDINARY
We believe that every cyclist deserves the opportunity to upgrade their ride and unlock their true potential.
In-house development
All of our products are designed and developed in our UK-based innovation centre.
Hand-built wheels
Its a fact that hand-built wheels are better. All our wheels are built by hand to be stronger, perform better and last longer.
Performance enhancement
We optimise our R&D processes to ensure that every product we produce will make you faster.
Media Reviews
"everything a modern wheelset should be" 9/10 - Road.CC
Overall, Prime has hit the nail on the head with the 44s. They have all the features a modern set of wheels should, from the ratchet freehub to the super-wide tubeless rims that perform well just about everywhere – flats, mountains, crosswinds, you name it.
Full Review
"Instant Classic" 9/10 - Road.CC
I reckon the Prime Primavera Shorty Carbon Saddle is an instant classic. I found it comfortable straight out of the box thanks to its flowing shape and perfectly judged padding. For a full carbon saddle, it's well priced too.
Full Review
Primavera X-Light - 9/10
I've been really impressed with the Primavera X-Light handlebar in terms of performance. I was skeptical of it's super-low weight since it costs less than half the price of equivalent weight carbon handlebars but it has yet to yield any short comings.
Full Review