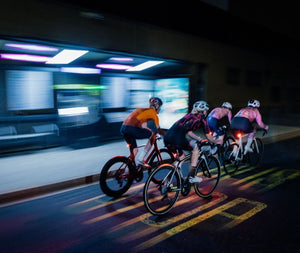 We are anything but ordinary, and therefore will never accept ordinary.
We're a performance upgrade brand, who wants you to have a
better bike. You, the leg shavers and XC racers. The ones who ride all night
and get up at first light. Those who refuse to accept ordinary… The cyclists
that want a better bike
Designed and Developed in House
______
Refusing to accept ordinary, we design and develop our products in-house using best-in-class materials and technologies. We're a team of lycra-loving bike racers, who design and develop products that will compliment any bike.  
Our aim is to make your bike look good, feel good, and ride
fast!
 If we're not in the office chatting bikes, we're out testing our products and pushing them to the limits.
Next Level R & D
______
Our sponsorship of Silverstone Sports Hub Wind Tunnel Room allows us to continuously test, develop and get feedback from both racing riders and engineers. We then take this feedback and plug it straight back into our product development process to ensure our products are a worthy upgrade to any athlete's ride. Silverstone Sports Engineering Hub are an industry leader in sports innovation and aerodynamics.
Team Spectra Wiggle Racing
______
We've been working with the multi-discipline, multi-gender,
Team Spectra Racing for the 2021/2022 race season. Supplying road, gravel, and CX wheels alongside a range of other carbon components that have been raced in the Tour of Britain, Cyclocross World Cup, and Gravel Championship.
The team plays a massive role in the development of our
products. We are constantly speaking to riders and gathering feedback to ensure that we are as fast as we can be.
Trash Mile RT
______
For the 2022 season, we are proud to be sponsoring London's coolest crit team. These guys and gals are the most striking amateur race team in the UK. Crit racing is at the heart of everything that they do, but they also take part in MTB, gravel, and CX races at local, regional, and national
levels. Through cultivating a talented team with diversity & inclusivity at its heart Trash aims to grow participation across the board.
#primeyouride
Follow us on Instagram and tag @primebikecomponents with #primeyourride to be in with a chance to be featured on our page